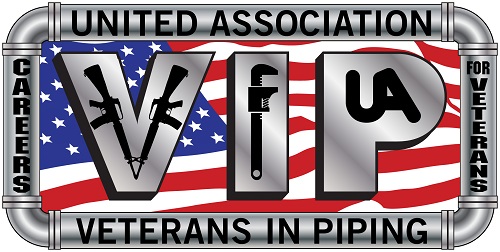 As a veteran of the U.S. Military, you have served your country well, providing security for all Americans.
The United Association of the Plumbers and Pipe Fitters Union (UA) wants to give back to those who have given so much.  Returning Veterans have at times had difficulty finding good jobs. Therefore, the UA has created a program called Veterans In Piping (UA VIP). The UA VIP Program helps returning veterans transition to civilian life, receive training, and find careers with contractors throughout the country. These contractors are "arming" themselves for the construction boom of the near future.
The UA VIP offers many programs, including a 18-week accelerated welding program that prepares graduates for a lifelong career in the construction industry. New welders that have graduated from the UA VIP Program are assured job security with good wages and excellent benefits throughout their career.
The Bureau of Labor Statistics estimates that the construction field will need to attract 240,000 workers each year to replace those retiring from the workforce.
The UA is an organization that has always placed family, community and country first. Membership in the Union offers a history of brotherhood that began over 120 years ago.